Find the Perfect Tires for Your Vehicle at Buerkle Hyundai
We sell tires for Hyundai vehicles as well as almost all other standard passenger vehicles! Our tires are priced very competitively and we encourage you to comparison shop us against wherever else you might purchase tires - go ahead!
Every tire purchased from our dealership also includes a free road hazard warranty. Our warranty includes free repairs, free replacement and free road hazard for the lift of the tire. Come see why St. Paul and Minneapolis drivers trust our team to optimize their Sonata, Elantra, Tucson or Santa Fe for a superior level of performance today.

We sell tires for any vehicle in your garage! When you buy tires from us you'll receive benefits you won't get elsewhere:

Competitive prices - if you are thinking "I'll get a better value elsewhere" - think again! Give us a call and see!

Mount & balance included in cost - we give you up front, easy options

FREE tire rotations - up to a $220 value! Rotating your tires regularly keep them lasting a long time and working well.

Flat-tire replacement coverage
Available manufacturer rebates
5% of what you spend goes into your Buerkle Rewards account - approximately a $30 value depending on your tires!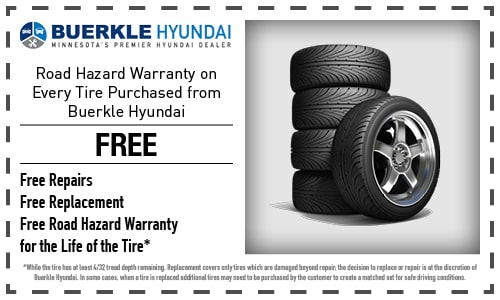 We Sell a Wide Variety of Tires at Competitive Prices

At Buerkle Hyundai you can find an inventory of tires from major brands, including Goodyear, Michelin, Yokohama, and more. To get assistance choosing from the wide range of brands, models and price points, just ask your service advisor when you come in, or call our service appointment center during their business hours. They will gladly send you quotes by email with the best options for your specific needs. Sometimes that is tire lifespan, sometimes price, sometimes a customer simply wants the absolute best winter traction.
In addition to the variety of tires we have to choose from, we offer competitive pricing to ensure that you're fully satisfied throughout the entire tire and service experience. In fact, our prices are quite close to the cost that we paid because you deserve nothing less than fair service and affordable pricing. That's the Buerkle Hyundai difference.
There are Many Benefits to Purchasing Your Tires With Buerkle Hyundai

We're not only the source for a comprehensive inventory of tires and competitive pricing, but we're committed to delivering quality. That means we want to find the best tires for your vehicle, at the best price point and we won't stop until we do. To accomplish this we will take the time to listen to your driving needs and then make a recommendation based on an excellent blend of quality and cost. Learn more about the perks of purchasing your tires with us by visiting Buerkle Hyundai, today!

Get a quote over the phone:
(651) 490-6699