2019 Hyundai Kona Ultimate Review
The Hyundai Kona Impresses with Style and Personality in 2020
At Buerkle Hyundai, we've been telling you about the virtues and winning characteristics of our popular Hyundai Kona for the last couple years. Now, this fun subcompact SUV is back for 2020, and it's winning over a whole new legion of fans in the greater White Bear Lake and Roseville, MN area.
We've taken an extensive look at the 2020 Kona for you, comparing it to the competition and breaking down its various trim options, and we hope our homework helps you when it comes to researching and choosing your next high-end Hyundai vehicle.
Read on to learn more about what makes the Hyundai Kona a remarkable SUV choice for Twin Cities drivers, and then stop by and visit us to see in person why the Kona has been named "Best In-Class Subcompact SUV" from the New England Motor Press Association and why it's been labeled top in technology for its small-vehicle segment by the experts at J.D. Power.
What's New for the Hyundai Kona in 2020?
If you're familiar with the previous model years of the Hyundai Kona, then you already know that it's one of the most well-equipped and fun-to-drive subcompact SUVs around. But, look a little closer at our 2020 models, and you'll notice one significant change - the addition of adaptive cruise control to its roster of available advanced safety features.
Other than that change, the 2020 Kona continues the trajectory set by previous versions - that of a stylish, unique, comfortable vehicle that's a blast to drive and easy on the eyes with an impressive design and a variety of fun color scheme options.
2020 Hyundai Kona Trims
The 2020 Hyundai Kona continues to offer Minneapolis drivers five-passenger seating available in five trim options. If you're looking at a new Kona for your next vehicle, consider these well-equipped trims:
2020 Hyundai Kona SE
The entry-level model gets Brooklyn Park drivers started off on the right foot for features, coming with standard fare that includes keyless entry, Apple CarPlay and Android Auto compatibility, touchscreen technology, and Bluetooth and USB connectivity with multiple ports.
2020 Hyundai Kona SEL
Next up in the levels, the Kona SEL adds standard heated front seats, push-button start, blind-spot monitoring, satellite radio, and roof rails.
2020 Hyundai Kona SEL Plus
This model adds a number of sought-after amenities to the Kona, with wireless device charging, a premium sound system, sunroof, and power-adjustable driver's seat listed as highlights.
2020 Hyundai Kona Limited
Upgrades for this upper-level trim include LED headlights and taillights, an automatically dimming rearview mirror, high-end leather upholstery, and automatic climate control.
2020 Hyundai Kona Ultimate
Sitting at the top of the pyramid, Inver Grove Heights drivers who opt for this trim level get a full menu of advanced safety technologies, as well as standard comfort features such as automatic windshield wipers, a larger touchscreen interface, navigation, and a heads-up display.
Performance and Power for the 2020 Hyundai Kona
Hyundai vehicles are renowned for their smooth performance and lively engines, and the 2020 Kona offers both. Two powertrains are available for this model year, with which one you get dependent on which of the above trim levels you go for. Options include:
A 2.0-liter four-cylinder engine that's rated for 147 horsepower and 132 pound-feet of torque. It's paired to a six-speed automatic transmission and is the standard engine for the first three trim levels, the Kona SE, Kona SEL, and Kona SEL Plus.
A turbocharged 1.6-liter four-cylinder engine with 175 horsepower and 195 pound-feet of torque that's the standard equipment for the top two trims, the Kona Limited and Kona Ultimate. This system also gets a seven-speed dual-clutch automatic transmission.
Front-wheel drive is standard with both Kona engines, and all-wheel drive is available across the board as an option. The unique Kona all-wheel drive system also comes in conjunction with an upgraded rear suspension system and lockable center differential. This combination helps increase traction for the Kona, especially when you're driving in icy or snowy Minneapolis and St. Paul, MN winters.
Tech and Safety Features for the 2020 Hyundai Kona
At the every level, the 2020 Hyundai Kona protects you and your passengers with a range of important, cutting-edge safety technologies. Standard features to look forward to on each trim include:
Rearview camera
Forward collision warning
Lane keeping assist
Automatic emergency braking
Plus, more safety features are sprinkled throughout the lineup of trims, topping off with the Ultimate trim, where drivers can look forward to automatic high beam control, adaptive cruise control, pedestrian detection, and rear parking sensors.
A Brief Look at the 2020 Kona Next to the Competition
It's one thing to read about what makes the 2020 Hyundai Kona a great option for Minnesota drivers. But if you want your decision to be based on facts and figures, consider the comparison research we've compiled for you here. We've looked at our 2020 Hyundai Kona next to two competing subcompact crossovers, the Nissan Kicks and the Toyota C-HR, and we've found a number of ways our vehicle comes out ahead. For example:
Available All-Wheel Drive
Neither the Toyota C-HR nor the Nissan Kicks have all-wheel drive available as an option. If you're looking for the security and peace of mind this offers during treacherous Midwest winters, the 2020 Hyundai Kona is the only subcompact model of the bunch that has all-wheel drive available as an option.
Warranty
Both the Nissan Kicks and the Toyota C-HR are covered by a manufacturer warranty for 3 years or 36,000 miles for basic and 5 years or 60,000 miles for drivetrain. But Hyundai has both of them beat with its comprehensive warranty, which offers 5 years or 60,000 miles for basic coverage, and an astonishing 10 years or 100,000 miles for drivetrain coverage.
Passenger Space
All three models measure about the same, with nearly identical heights and widths. However, the 2020 Hyundai Kona is a bit shorter than the Nissan Kicks and the Toyota C-HR. The funny thing about this difference, though, is that the Hyundai is still more spacious inside. The 2020 Kona maximizes its interior dimensions better and offers more elbow room to stretch out in and more legroom, especially for your backseat passengers.
Options & Power
As mentioned, the 2020 Hyundai Kona gives drivers a variety of trim levels and a couple of different engines to chose from. Both the Nissan Kicks and the Toyota C-HR, on the other hand, offer fewer trims and only have one engine available for their entire lineups. Not only that, but neither engine in either vehicle can match the Hyundai powertrains in horsepower. The Hyundai engines have either 147 horsepower or 175 horsepower depending on your pick, while the Nissan tops out at just 122 horsepower and the Toyota at 144 horsepower.
Test Drive Your New Hyundai Kona in St. Paul, MN
Browse through the collection of currently available Kona models on this page and get to know the various trim and engine configurations we have on hand. When you're ready to meet it in person and take it for a test drive, stop by and visit us in person on Highway 61 North.
Previous Model Year Info
Standout Style and Fun Performance Make the Hyundai Kona a Must-See Model for 2019
Now in its second year, the subcompact Hyundai Kona crossover is giving St. Paul, MN drivers more of what they love. Designed to be eye-catching, with a range of punchy color schemes to choose from, this exciting small SUV is as fun to drive as it is to look at. If you'd like to learn more about this unique SUV option, we invite you to let the team of sales experts at Buerkle Hyundai show you more.
Driving the 2019 Hyundai Kona
If you like unique style and a fun drive, you're going to love the 2019 Hyundai Kona. With its small size, it's a breeze to park, and can easily be maneuvered through any traffic situation or crowded city street. Plus, it stands out from the crowd and makes an impression everywhere it goes.
The subcompact crossover market is getting to be a crowded place, but, as it does in any category it enters, Hyundai delivers a knockout punch that puts the competition to shame. Don't judge this book by its cover, because it may look like a simple small SUV, but the Kona is exciting and responsive to drive, with impeccable handling and plenty of personality to go with it.

The 2019 Hyundai Kona
After debuting last year to a lot of fanfare and excitement, the 2019 Hyundai Kona continues the trajectory set by the previous year's model, with a range of color schemes that vary from vibrant and standout, to subdued and sophisticated. A five-passenger, four-door small SUV, the Kona offers plenty of legroom and headroom for even taller passengers, and its perfect size and ground clearance make it easy to climb in and out of.
For 2019, the Kona has updated its list of both standard and available features, giving drivers from Minnesota to White Bear Lake a handful of standard safety technologies that previously were listed only as optional amenities. These include frontal collision warning with automatic emergency braking, a lane-keeping assistance feature, and a state-of-the-art driver attention monitor that alerts you if it thinks you're getting drowsy behind the wheel.
2019 Hyundai Kona Trims and Power
If you're in the Brooklyn Park area and you're interested in trying out a 2019 Hyundai Kona, the first decision you'll have to make it is which trim level you prefer. There are four options to choose from, including:
2019 Hyundai Kona SE- The base model, but don't just call it basic. Whether candy-colored to stand out in traffic, or with a sophisticated black hue to make a chic first impression, this entry-level trim starts you out with some of the best features around - including touchscreen technology, smartphone integration, the aforementioned array of standard safety features, and automatic headlights.
2019 Hyundai Kona SEL - When you want more options and more standard features, fall for this second trim in the lineup. Additions to the list of standard features include heated front seats and heated exterior mirrors, as well as keyless entry and ignition. Plus, with this model, drivers can add on optional sunroof, upgraded audio system, and more.
2019 Hyundai Kona Limited - This upper-level model is what you get when you take all of the standard features from the SE and SEL, bundle them together with the optional amenities from the SEL model, and throw in a couple more just for good measure. Additions to be on the lookout for on this model include leather upholstery, automatic climate control, and LED headlights and taillights.
2019 Hyundai Kona Ultimate - When nothing but the best of the best will do, the Hyundai Kona Ultimate is the SUV for your Inver Grove Heights adventures. It combines everything we've ever learned, liked, or wanted in the rest of the lineup, puts it all together in one place, and adds a few luxury amenities to make it the complete package. Highlights for this model include a charging pad to wirelessly recharge your devices, a navigation system to get you where you're going, and automatic high beams, to make it easier to find where you're going.
Hyundai Kona Engines and Power for St Paul, MN Travels

Depending on which of these trim levels you prefer, your 2019 Kona could come with one of two great engine options:
First up is a 147-horsepower, 2.0-liter four-cylinder engine with 132 pound-feet of torque. Paired to a six-speed automatic transmission, this base engine is standard if you order either the Kona SE or the Kona SEL.
The second engine that's available is a nice, turbocharged 1.6-liter four-cylinder. This zippy powertrain can get you up to highway speeds quickly and efficiently, with 175 horsepower and 195 pound-feet of torque. It's paired to a seven-speed dual-clutch automatic transmission, and it's standard for both the Kona Limited and the Kona Ultimate.
These two different engines will appeal to different types of Minnesota drivers. While the base four-cylinder is more fuel efficient, earning an estimated 30 mpg combined, the upgraded turbocharged engine is more responsive. The upgraded engine is rated for an estimated 27 mpg, and it makes your every commute thrilling and more exciting, tackling corners with ease and getting up to highway speeds in mere seconds.
Regardless of which trim level and which engine you get for your 2019 Hyundai Kona, you can expect front-wheel drive to come standard, with all-wheel drive available. If you opt for the all-wheel drive, you can also look for a revised rear suspension system and a lockable center differential, which can make easy work out of navigating Inver Grove Heights and Roseville, MN winter storms.

Safety and Tech Features for the 2019 Hyundai Kona
Safety
As mentioned, the 2019 Hyundai Kona gets an updated list of standard safety features, which includes a rearview camera, forward collision warning, and more. If you choose to move up through the various trim levels, however, you can expect even more safety features on your new SUV, with highlights including:
Blind spot monitoring with rear-cross traffic alert, especially helpful when backing out of spaces or merging on the highway, standard starting at the Kona SEL level and up
Automatically-dimming rearview mirror, never be blinded by vehicles behind you with bright headlights again thanks to this feature, which helps dim the light that shines into your eyes and is standard on the Kona Limited and up
Pedestrian detection, works with the forward collision mitigation system and is standard on the top trim, the Kona Ultimate
Automatic high beam control, take the guesswork out of when it's appropriate to use your bright lights with this auto safety feature, standard on the top-of-the-line Kona
Standard Tech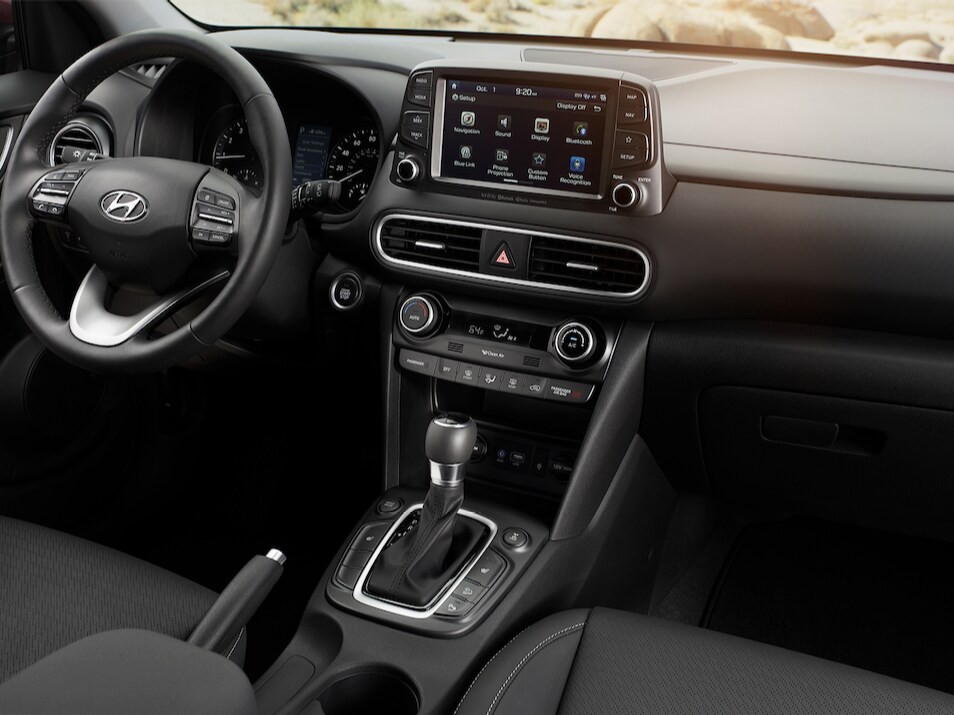 Every level of 2019 Hyundai Kona trims come with a list of standard tech features for both comfort and connectivity. Some of our favorites include:
Bluetooth and USB, with a touchscreen interface and multiple USB ports
Smartphone integration with Apple CarPlay and Android Auto
Automatic headlights
Keyless entry
Available Tech
As with the safety features, there are more creature comforts available as you move up through the Kona lineup. A few notable upgrades that are available include:
Heated seats
Automatic windshield wipers
Wireless device charging
Comparing the 2019 Hyundai Kona to the Competition
Bulleted lists of features is nice. Telling you what trims and engines are available to you is helpful. But, to be truly useful and help you understand what makes the Hyundai Kona stand out, you need a little side-by-side comparison data, pitting our Kona SUV to some of the similarly-sized, competing models from other carmakers. For example:
The Hyundai Kona vs the Toyota C-HR

Another relatively recent addition to the world of subcompact crossovers, the Toyota C-HR model also aims to please drivers who like a small vehicle with SUV style. But, the Hyundai Kona comes out as a better choice than the Toyota model for a few reasons, including:

All-wheel drive. The Toyota C-HR may think it's offering you an alternative to the larger SUVs around, but it doesn't even come with the signature SUV characteristic of all-wheel drive as an option. The Hyundai Kona, however, does have an all-wheel drive option, and it can be your best friend come the next treacherous Midwest winter storm.
Power. Not only is the C-HR model's base engine underpowered compared to the Kona, it's also the only engine available. While the Hyundai gives you two fun powertrain options, the Toyota is strictly powered by a 2.0-liter four-cylinder engine rated for 144 horsepower.
The Hyundai Kona vs the Nissan Kicks

Nissan jumped into the small SUV trend recently with this new addition. Like the Toyota before it, the Nissan Kicks model has the elevated ground clearance of an SUV, but it doesn't even offer all-wheel drive as an available option, unlike the Hyundai Kona. Here are a couple of other ways we've found that make the Hyundai stand out when compared to this model:

Cargo storage. Both models offer useful amounts of cargo space and backseats that fold. However, the Nissan Kicks rear seats don't fold flat, giving you an uneven floor when you need it to expand for bulkier items. The Hyundai Kona backseats, on the other hand, fold flat every time.
Passenger space. The Hyundai Kona measures slightly larger than the Nissan Kicks. On the inside, this translates to more shoulder room and elbow room for you and your passengers, and it makes carrying three adults sitting side by side in the backseat a little easier. Plus, the backseat will be more comfortable for your Hyundai Kona passengers in terms of legroom as well, as our SUV has around two inches more backseat legroom than the Nissan Kicks.
The Hyundai Kona vs the Chevy Trax

Yet another small SUV that tries and fails to take on the Hyundai Kona, the Chevy Trax is a compact model that offers all-wheel drive, unlike the other SUVs mentioned here. But, it falls short in other areas when compared side by side to the Kona, including:

Cargo space. Both small crossovers have versatile cargo management that can be expanded by folding the backseats. But, when you need all of your seats and cargo room, the Kona is more useful. With all the seats in place, the cargo hold for the Hyundai holds more cubic feet than the Chevy Trax model.
Safety features. We've already gone in-depth to describe to you the level of standard safety features you can expect on the Hyundai Kona. From drowsy driver monitoring to forward collision warning, the Kona is there to protect you and your family. The Chevy Trax does not offer a drowsy driver feature at all, and it only makes the majority of its advanced safety features available to drivers who opt for the top-of-the-line models.